8 Best Tents for Camping With Your Family in 2022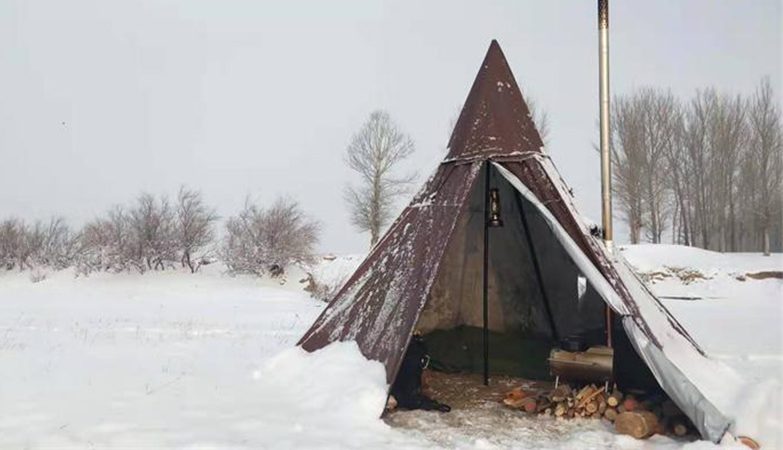 Camping with your family can be a great way to get outdoors. That's why it's important to have the right camping gear, like the best family camping tents to keep everyone comfortable. Your little ones will be sure to remember nights of stargazing or toasting marshmallows around the campfire. But camping with kids can also be challenging—you have to deal with weather, bugs, and bad moods. A good camping tent can elevate your family's camping experience. Tents provide privacy, room to hang out to play cards or watch movies, and most importantly, protection from cold, wind, and rain while you settle down in your sleeping bag.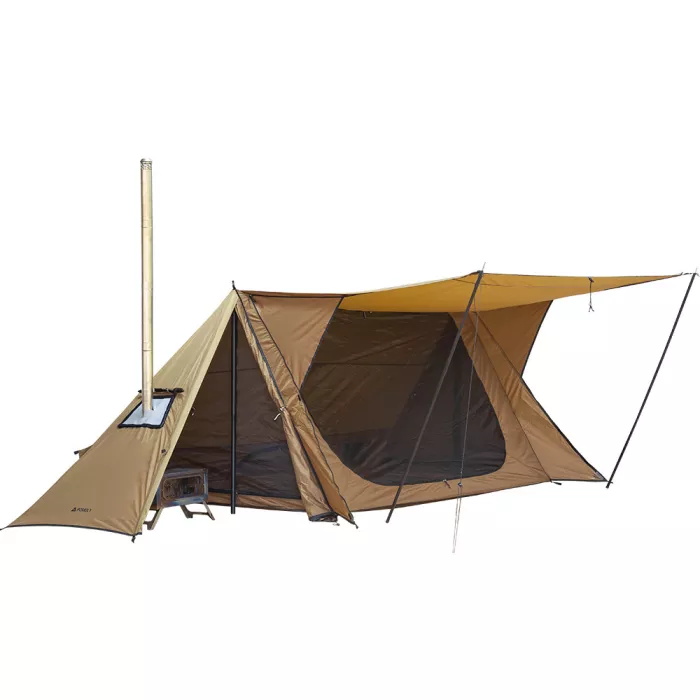 If you're trying to introduce your kids to camping and connecting to the outdoors, your tent can make or break the experience. You'll likely need more than a three-person tent to have enough room for everyone. This list of the best family tents for camping features tents in an array of styles from outdoor brands like Pomoly, FireHiking, and Onetigris so you can find the right tent for your next weekend getaway.
Quick views:
Pomoly HEX Plus
OneTigris Iron Wall
Russian Bear Hot Tent
White Duck Regatta Canvas Bell
Playdo Canvas Bell
Dream House Canvas Tent
Wintent 4-Season Teepee
Danchel Outdoor Canvas Wall Tent
Pomoly HEX Plus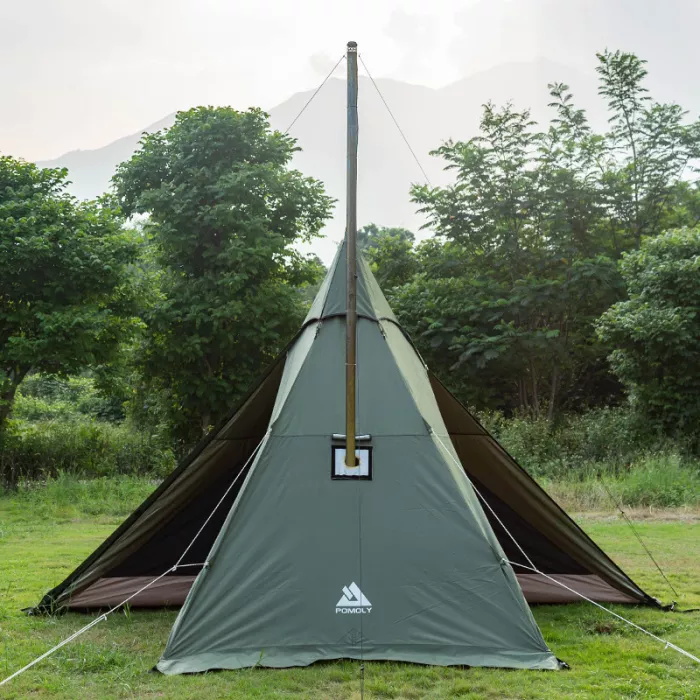 If you're looking for a toasty teepee, look no further! The Pomoly is made with coated Oxford cloth that insulates heat. It's durable in rain, making it a great portable 1-3 camper sauna sanctuary!
Although it doesn't feature windows, there is decent ventilation. Roof vents allow heat to escape. Additionally, you can remove the cap to keep air circulating.
Without a stove, there's room for the whole family in there! 2 adults, 2 kids, and a dog have found comfort in the Pomoly. It has double doors to open it up as a shade tent.
The Pomoly is uniquely light for its larger sleeping capacity at 13.7lbs.
Pros
Durable Oxford material increases waterproofing and heat insulation so you stay warm and dry
Lightweight for easy portability
Spacious compared to other similar models
Vents and moveable cap design to modify the airflow as you wish
Cons
No windows
OneTigris Iron Wall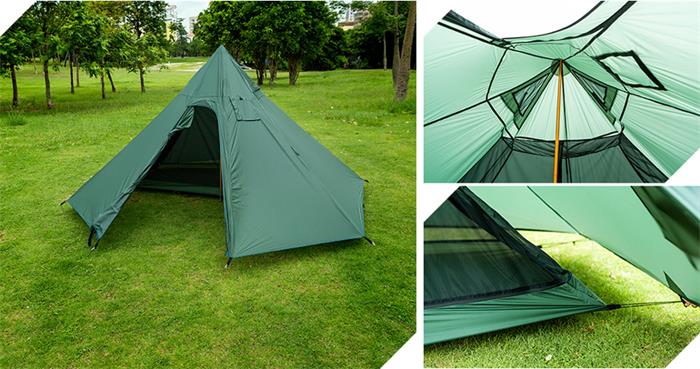 Sometimes you just wanna go out in the thick forest. If you're backpacking, and every little ounce matters, the OneTigris Iron Wall is the stove jack tent for you.
Though you probably won't be bringing a stove when backpacking, (unless you are) it's nice to have both options for different trips.
This is the upgraded version of the OneTigris Ultralight. While slightly heavier at 4.2lbs, the newer version works out some of the kinks. The previous version has some negative reviews on the durability of its fabric.
The Nylon of the Iron Wall fabric is well coated, increasing its durability. Hence the name of Iron Wall. It packs up a little large for some roamers, but a good stuff bag would remedy this.
The iron wall will keep you warm and dry in storms, with reviewers praising the shelter in -2 degrees Fahrenheit. It features a robust inner seam tape that increases the waterproofing value. The 5.25' aluminum center pole has stood against 55mph winds.
Pros:
Quality zippers for longevity
Wind and waterproof – has stood up well in heavy weather
Breathable – vents on the roof create airflow and reduce condensation
Adjustable stake loops make it easy to setup on rough terrain
No groundsheet to prevent wood stove mess
Bottom ventilation creates airflow while still retaining heat
Partial inner mesh screen room -to stay dry and keep bugs out
Cons
May leak slightly around stove jack in heavy rain – you may want to treat the seams here
Doesn't come with poles – you can either hang it or buy them separate
Russian Bear Hot Tent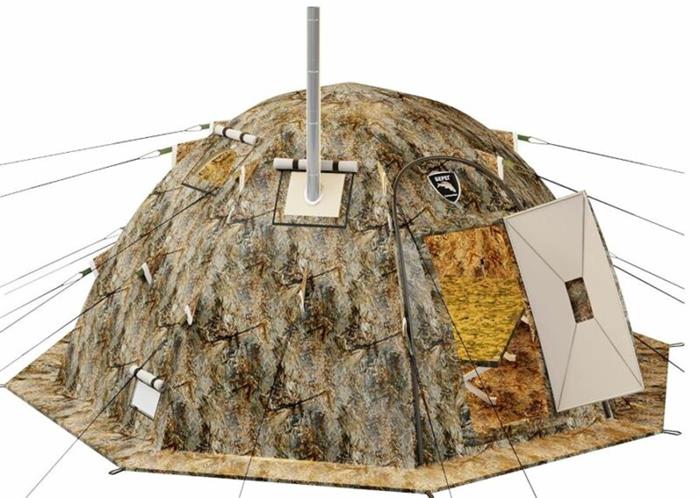 This unique popup tent is made by a reliable manufacturer. The option to create multiple rooms gives it a cozy feel while providing the space you need for a luxurious setup.
Once you lay down the groundcover, this tent pops up easily. No need to feed poles through on this one. It takes about 15 minutes to set up including the fireplace, and another 5 to get it nice and warm inside.
With 4.4M (14.4') of space, it's a great tent for 3-4 people. With a woodstove and gear, this would be a comfortable and fire safe fit.
It has a triple layer door for added insulation. The double wall also helps retain heat. There are 4 windows with reinforced zippers to keep it draft free.
The 3-layer floor is designed for cold climates. You could take it on snow or ice without losing heat through the cold ground.
It comes with a divider for the option of 2 separate rooms. Thus you can create privacy. Alternatively, one side could be the dining room while the other is the bedroom.
The stovejack is made with fire resistant material. For added safety, it's reinforced with a stainless steel ring.
The woodstove is made with ceramic glass. This will help emit heat, making this an excellent sauna or solace on cold camping trips. Also, the stove creates warm lighting to brighten up the place.
Best for: Small groups and families looking for a warm and spacious sauna, ice house, or camouflage base camp; $$$
Pros
Quality multi-layered Oxford material is durable and retains heat well
Pops up for easy setup
Spacious for big families or furniture
Wood Stove emits heat well and gives off mood lighting
Reinforced windows give you the option of airflow or insulation
Cons
On the pricier side
White Duck Regatta Canvas Bell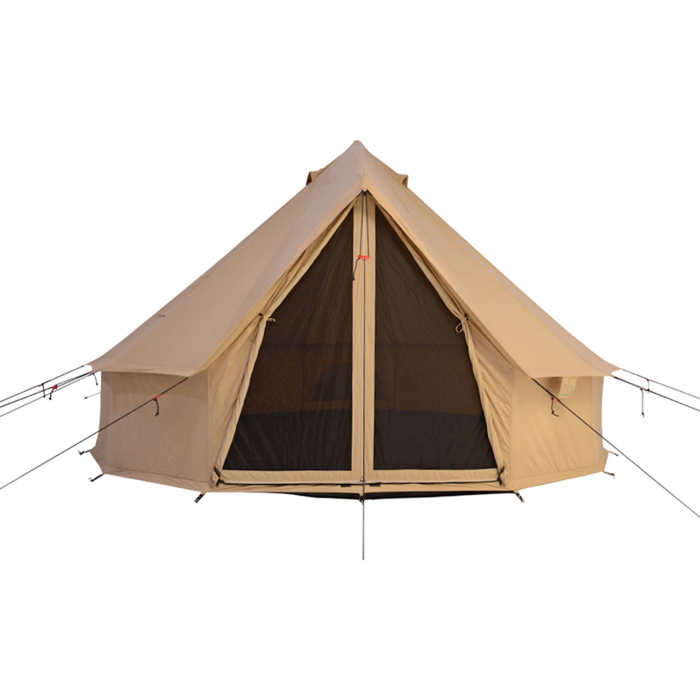 You could keep this tent out in the rain for months without a single drop sneaking through. The quality of the Regatta's canvas will keep you dry and warm.
Satisfied customers have written glowing reviews, feeling quality from the moment of unboxing. The durable material and the zippers have received praise.
It's built with a stove jack opening for in-tent cooking and heating. Equally important, it's made with fire retardant material to stay warm safely. One reviewee mentions having hours of damage-free woodburning with the stove pipe glowing red.
Additionally, it has a cable outlet so you can charge your phone, laptop, or string lights. The glamping possibilities are endless.
This design doesn't have an A-frame door, so a pole splits the view out the doorway.
The 3m tent sleeps 4 people. People have put a full bed, mini fridge, dresser, gaming chair, and closet rod in here without feeling cramped. Another buyer had a wood stove and cots for 2, with 2 dogs sleeping happily.
The description reads as having ample comfortable standing space. However, a review mentions that there's not much standing room unless you're in the center.
The door and windows are mesh with a canvas cover. There are 2 windows and 4 roof vents for proper airflow.
The product description doesn't mention PVC ground sheet. One buyer added blankets to protect from furniture punctures. However, another mentions the floor is made with the heaviest tarp material they've ever seen.
Many reviews mention they were surprised by the simple set-up and take down. It's 51 lbs and takes about 30 minutes for one person to set-up. There are many stakes, but only 2 poles.
Pros
Sealed seams
Waterproof double stitched zippers – an important feature as zipper teeth can let water through
Fireproof material and Stove jack – for that safe and warm feel
Electrical outlet for feeding cables through without letting in bugs or rain
Easy set-up
Thick, durable zippers
Durable galvanized steel pole stands strong in storms
D-ring on poles to hang lanterns
Includes waterproof storage bag
Gear storage – includes 2 large stowage pockets
Cons
Sewn-in ground sheet can't be rolled up, but this improves water insulation
Pole splits view out the door
Tall people may have less standing room
Best for: Groups looking for a quality canvas tent to stay warm and dry in; $$
Playdo Canvas Bell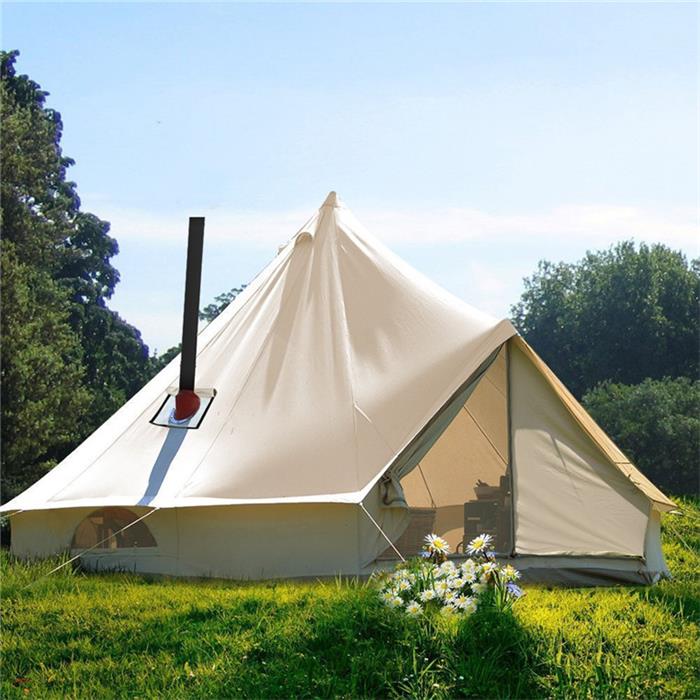 Best for: Group campers seeking a quality canvas tent on a budget; $$$
This Playdo canvas tent will cost you a fraction of the price of some, while maintaining water and fireproofing quality.
This durable canvas tent comes in sizes ranging from 3-5M (9.8-16.4').
The 3M is perfect for a couple and a stove. The 4M could house 3-4 with some storage space. One or two would provide ample space for luxuries and a stove. 5M is great for 5 people with a stove or 4 people without a stove.
Reviews mention easy setup. This can range from 20-40 minutes, depending on your familiarity with the tent.
The treated canvas and taped seams ensure you'll stay dry in your small home. This tent has withstood some heavy winds and rain without a leak. Try a Texas thunderstorm in 45mph winds!
The only drawback is the stakes are a little short for high winds. You can always buy longer stakes that will stay put. Also, the guy lines may require tightening.
The sides roll up and the groundsheet is removable. Thus, you can air your tent out and make it into an open air shade tent. Also, the removable groundsheet is useful for if the fire gets messy.
Pros
Good budget option
Quality canvas ensures longevity
Treated waterproof canvas and sealed tape seam keeps you dry
Durable against high winds
Power cable inlet allows for AC, device charging, lighting, etc.
Top screen vents for breathability
Mesh windows for breeze and a view
Easy setup
Cons
Sticky zipper
Slippery nylon guy lines may require tightening
Inside of canvas may get damp in flash floods
Dream House Canvas Tent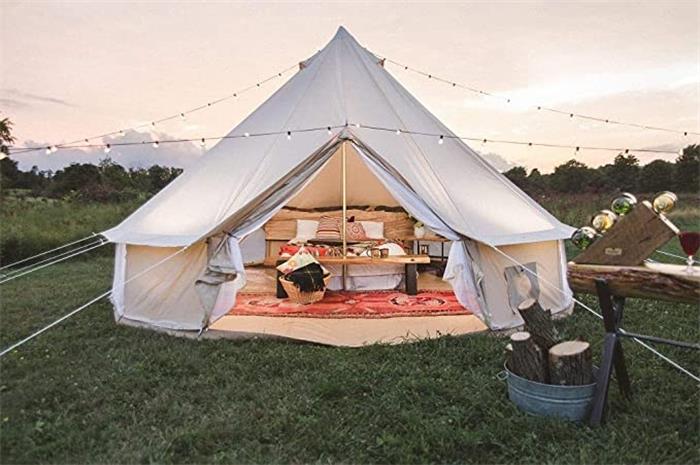 Best for: Families and party people on a budget; $$
Are you seeking the glamping experience on a budget? This tent delivers all that, with the durability to keep you warm andThe Dream House has a high waterproof rating. Thus it will hold almost 12" of water before a single drop leaks through. It has stood the test of heavy wind and rain!
The 5 meter sleeps 4-5 people comfortably, with room to spare. The 6 meter is a good space for 5-6 people. It's always good to have more room than you need for stuff, walkways, and dance parties.
The groundsheet is connected to the walls with zippers. You can remove the groundsheet, for ease of cleaning. Meanwhile loops will hold up the side walls if you really want to air it out.
Although the tent is waterproof, it is not fireproof. Albeit an oversight on their end, you could fireproof it yourself. You can find fire retardant spray on Amazon.
The description does not mention weight but it's reviewed as a heavy load to carry. Be that as it may, this speaks to the durability of this tent. The 38mm galvanized steel center pole holds up against strong winds.
This tent is well ventilated with four mesh windows. A canvas flap zips around for privacy and warmth.
Pros
Budget canvas option
Waterproof treated to keep you dry
Great ventilation for breathability
Removable ground sheet for easy cleanup
Sealed Seams for improved waterproofing0
Heavy duty groundsheet protects against tears and groundwater seepage
Strong center pole stands against 30mph winds
Anti UV guy lines won't weaken with sun exposure
Cons
Heavy for hike-in sites
Not fireproof – Stove Jack could still be used for extension cords for phone charging, lighting, etc.
Stovejack on the side wall – you need an elbow chimney which are a bit bulkier
Wintent 4-Season Teepee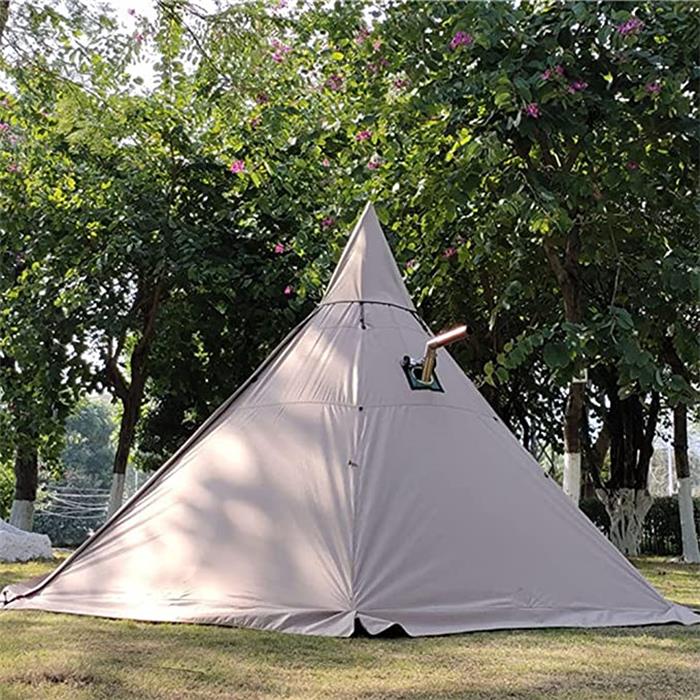 Best for: Campers looking for a warm, long lasting teepee tent; $
Are you looking for that teepee feel? Dating back to its original indigenous people's roots, this is a traditional style to have a wood burning stove in.
At almost 19lbs (8kgs), it's lighter than a canvas tent while maintaining the quality of material. It's the most spacious of the teepee tents we've reviewed. Therefore, this tent is the happy medium between these styles.
With its thick Oxford material, it retains heat well. One review mentions it worked well as a sauna.
Reviewers mention its spaciousness and ample headroom, at 7.8' tall. With an 11.2' diameter, you could easily sleep 3 people. But even without a stove, 4 would be a snug fit.
It features 2 doors, for easier access and feng shui around the stove. It comes with an optional inner mesh for bug protection and dry ground. You can choose either the half size mesh to sleep 1-2 people or full size to fit around the whole tent.
A review mentions the instructions are difficult to understand. They recommend lightly staking the floor down first. Then stake the center pole to line up correctly.
Overall, the Wintent makes a great first big teepee tent.
Pros
Quality Oxford material retains heat well
Durable zipper for longevity
Thick center pole holds up against wind
Taped seams for extra waterproof seal
Lightweight for easier hike-in
Inner mesh for bug free sleeping and ground cover – removable for bare ground / increased fire safety
Cons
Tricky setup – but gets easier as you go
Danchel Outdoor Canvas Wall Tent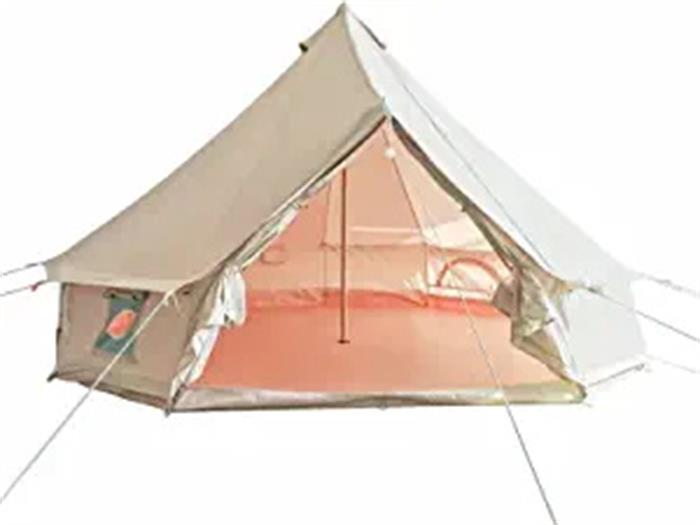 Best for: Canvas tent glampers that like to cook; $$
This versatile and affordable tent offers you options you may not have thought of.
This tent comes in a wide array of sizes ranging from 10-20' (3-6M). For a spacious setup, allow 1M per person, and an additional meter for the fire burning stove. Think about your individual preferences, like furniture, gear, and open space.
This outdoor home comes with two stove jacks. While one camper cooks dinner, the others can keep warm around the other stove. You can also buy this tent with a large 10×13 awning porch for shady hangout times.
Fiberglass fabric is placed around the stove hole. Some reviewers have found this well intended safety feature to cause more problems than it solves. There may be some singeing of the fabric.
The raised tub-style groundcover provides extra protection against groundwater seepage. You can roll up the walls to make it into a cabana style hut for summer breeze or beach shade.
The waterproof rating of this tent isn't quite as high as some others. However, reviews confirm that it has kept them dry, even in Alaska. Just make sure the windows are shut.
You'll get plenty of airflow, with four mesh windows and four roof vents. Feel the breeze and get a sweet view.This is a quality tent for the price.
If you're on a budget, you'll save $300-$500 with this option over other stovejack tents.
Pros
Raised bathtub treated groundsheet to prevent groundwater leaking in
Two stove jacks expand the possibilities
Well ventilated for breathability
Four windows give you a view of your campsite
Optional: Large awning for outdoor rain covering
Cons
Zipper may get snagged, use two hands
The center pole may penetrate the roof with prolonged usage
Fiberglass around stovejack may singe