Best 8 Winter Hot Tent Camping Videos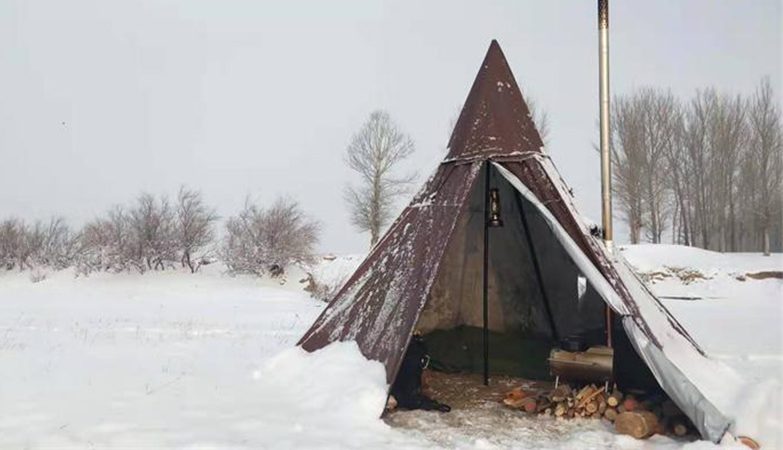 Are you preparing for winter camping? This post can inspire you for hot tent camping in winter. Hot tent camping with pets, love, car, friend, or son . Quick View:
Winter Hot Tent Camping with My Dog
Winter Camping In A Hot Tent With Friends!
Wildcamping Scotland. Extreme Snow Camping in Glencoe
Solo Winter Bushcraft Camp – Snow, Hot Tent Camping
Our First Time Winter Camping in a Hot Tent
Hot Tenting- Backcountry Hunting and Fishing Setup
Micro Hot Tent on the Trail. Snow Storm
Hot Tent – Wood Carving – Camp Cooking – Father And Son – Overnighter
1. Winter Hot Tent Camping with My Dogs  
Brief introduction:
I head out into the woods with my two dogs to set up a hot tent and do some winter hot tent camping! We cook up some delicious food and have some fun!
Hot tent camping gears:
Ipmpotent:my two dogs
Camping Gear that I Use
(I earn income when you use the links below and it does not cost you anything extra!)
Bushcraft Tools Knife: Benchmade Bushcrafter 162
Saw: Agawa Canyon Boreal21
Axe: Gransfors Bruks Scandinavian
Forest Axe
Firesteel: Exotac Firerod
Shovel: Poly Pro Tools Tuffy
Sleep Gear Sleeping Bag: Military Surplus Extreme Cold Bag
Sleeping Pad: Thermarest NeoAir Trekker
Winter Sleeping Pad: Thermarest NeoAir Xtherm
Pillow: Nemo Fillo
Sleeping Bag Liner: Sea to Summit Reactor Extreme
Shelter Tent: Eureka Midori 3
Square Tarp: Aquaquest Guide Tarp
Large Tarp: Kelty Noah's Tarp
Camp Comforts Chair: Helinox One Chair
Chair Ground Sheet: Helinox Ground Sheet
Cookware Cooking Pan: Primus Campfire Frying Pan
Great Grate: Coghlans Pack Grill
Food Prep Knife: Opinel Filet Knife
Eating Utensil: Light My Fire Titanium Spork
Water Pot: MSR Alipine Stowaway Pot
Coffee Filter: MSR Mugmate
Tent Stove: Trangia 28
Seasoning: Montreal Steak Seasoning
Clothing Snowshoes: TUBBS Panoramic
Boots: Muckmaster Muckboots
Jacket: Carhartt Shoreline Jacket
Bibs: Carhartt Shoreline Bibs
Gloves: Black Diamond Guide Glove
Water Filtration Water Filter: MSR AutoFlow Gravity Filter
Electronics Watch: Casio Pro Trek
Headlamp: Black Diamond Storm
Camera: Nikon D5500
Camera Lens: 18-140mm Nikkor Lens
Microphone: Rode GO Mic
Comments:
I swear, with the state of the world right now, this channel is an absolute blessing! ( – DameGarbo from Youtube )
As someone who can't go outside much and has physical disablities, it's cool to watch someone experience stuff like this and talk as if I'm there with them. I appreciate you and your work friend. ( – Static Wolf from Youtube )
That shit eating grin on your face when Monty comes in and freezes to see all the birthday decor. Monty- "Oh damn, he got me again." That was hilariously perfect. ( – soinelle85 from Youtube )  
2. Winter Camping In A Hot Tent With Friends!
Brief introduction:
Winter hot tent camping and hot tents are like two peas in a pod. They just have to go together, ha ha. I joined some old friends and new friends for an overnight winter backpacking trip with my Hot Tent.
Hot tent camping gears:
Luxe Hiking Gear Twinpeak
3W Titanium Wood Stove
Comments:
your stuff looks amazingly light..i was blown away by your little woodstove send me a link where i can buy one and that tent was awesome send link please. I have trecked with 75 lbs for 2 hours on my back and it wasnt fun …your stance looked upright…i guess maximum 47 lbs. thanks for the vid thumbs up. ( – Michael M. Apostol from Youtube )
Not enough information, try again, nice scenery, but seriously, not really impressive content. ( – Tuvia from Youtube )  
3. Wildcamping Scotland. Extreme snow camping in Glencoe
Brief introduction:
Day 2. After winter  camping in the lost valley the previous night, I headed down into Glencoe for a ground level camp in the snow. Set up the smokey hut chimney tent and got the frontier wood burning stove on. Hardly stopped snowing all day, cant believe how perfect my timing was to come up here.
Hot tent camping gears:
Frontier burner camp stove
Tent:onetigris
Comments:
Awesome colin cant beleive you got snow i just left sunday morning all we got was tons of rain lol atb stuart. ( – Scottish Wanderer from Youtube )
I use to rent a cottage in Glencoe each year in the 90's when my family were young. One year we got snowed in at the beginning of June, where a plough had to clear the road. The kids loved it. Great memories. ( – Gino Ginetti from Youube )  
4.  Solo Winter Bushcraft Camp – Snow, Hot Tent Camping
Brief introduction:
Solo winter bushcraft camp in a hot tent, winter hot tent camping trip in the snow. I bushcraft a Christmas wreath, bake some tasty bread on a dutch oven and feast on some cheeses. I made this video last year as a yearly bushcraft Christmas special of sorts, hoping to bring that snowy Christmas feeling to you and wish you all a Merry Christmas. The other reason is so i can take a break and relax with my family as well. Enjoy your holidays!
Hot tent Camping Gears
FOOD bread, cheddar, brie, cambert, chorizo, bell pepper, onion, mushrooms, garlic and red wine
Comments:
man, you're an inspiration.your creativity's amazing…and eating good in a warm tent…i love the walnut btw!! ( – Ghee Rock from Youtube )
Man your Videos are very inspiring! I am going to the "Black Forest" in south-western Germany next week. I needed about 2 years for learning, get all the Equipment and everything to say that I can go Glamping with Tipi, Hot  tent Stove, etc. for one Week. It is like magic. The first 24 hours of beeing alone a lot of thoughts going through my head. But after that, I'm completely "in". Like melting with nature and forget that there is civilisation far from the Woods. When I am back, I feel very healthy and clear in mind. Next week I'm going to a very far and calm valley. There are watersources, wild meadows, mountains up to 1000m and a lot of wood. Eveytime I am so excited like going to big holidays. Because thats what it is. Respect the nature, dont destroy the nature, living with nature. Greetings from sourthern Germany! ( – Bananasplityamiyami From Youtube )
Thank you, Sir, for the lovely gift of your Christmas video for all of us. The wreath was elegantly simple, thanks to your artist's eye, and  was mystical lighted in the dark of the evening woods  (Nice touch, by the way.) I'll make mine with cuttings from the juniper bush, laced with silver dollar eucalyptus branchlets and small olive branches with ripe olives still clinging. AND THEN  you give us the added fillip of the candelabra! Mine will be a wind-fall mesquite branch with dampened eucalyptus bark to strap in the candle. Merry Christmas from the Sonoran  Desert town of Peoria, Arizona.( – Jane Warner from Youtube )
5. Our First Time Winter Camping in a Hot Tent
Brief introduction:
Erin and I finally bought a hot tent and we've been dying to try it out.  We go through a bit of the hot tenting learning curve, fry up some bannock, and enjoy the warmth of a hot tent stove amid the silence of winter.
Comments:
To help with your creosote issue in the pipe, I take the spruce that I used for the bedding take two or three of them tied together and pull them through the pipe. Just like a sweep and they will be clean. I would when possible put about an inch of sand in the bottom of the hot tent stove helps burn out, ground fire and warping. Also helps with weight for balance in windy conditions. Love the vids can't wait to see where you're going next. Lucky you two!!!!  ( – Phil Blake from Youtube )
Well, you definitely got my interest in hot tent camping! That tent was awesome! The stove design looked great and like you I question the design of the stove pipe.I have seen some with bends in them and others that have outside pipe supports added. But all in all it allows one to enjoy winter camping in the winter. As always you've done another excellent outdoor video! Thanks again for sharing! And Happy Birthday! ( – Rick From Virginia from Youtube )  
6. Hot Tenting- Backcountry Hunting and Fishing Setup
Brief introduction:
McCade and Zach head out to demonstrate the luxuries that sleeping in a hot tent can bring while backcountry hunting, winter hot tent camping, winter fishing or winter backpacking.  
Hot Tent Camping Gears
Equipment used: – Luxe Hiking Gear Octopeak 6 person tipi (3 person while using woodstove) – Tipi Specs: 6.06′ Tall x 9.97′ Wide x 9.97′ Length (not including snow skirts) – Weight with Stove Jack and Snow Skirts: 3.12 lbs. – Minimum Pack Space: 20″ x 4″ x 4″
Seek Outside Large Titanium Stove – Stove packs down to roughly 8.25″ x 14″ x 3″ tall – Stovepipe rolls up to roughly 12″ long cylinder and 3 1/8″ in diameter – Stove weight with 7′ stovepipe included is 3.06 lbs.
Comments:
Always use a cold tent someday I might get stove and hot tent 10degf is the coldest so far during my hunts. ( – SheerWill Survival from Youtube )
I have a XL Seek. Kept me warm in -4F. Hit tent in snow is the only way to go ?❤️??❄️☃️?⛺️ ( – Lord Marshall from Youtube )  
Brief introduction:
  Micro Hot Tent on the Trail. Snow Storm. Some of the gear used.  
Hot tent camping gears:
Shelter and stove from Kifaru
Headlamp. Save 15% Coupon code WALKER15
Foot traction. Micro spikes.
Bushcraft USA Knife.
Renogy 10w Solar Panel charger.
Comments:
I absolutely love this video was it nice and cozy inside that tent cooking up some yummy grub with the stove glowing it's snowing outside very good you look very cozy in there I always enjoy your videos . ( – rufus overland from Youtube )
Hmmm, graphics on this game are pretty good. Lack of wolf/bear encounters on this level make it abit uneventful, though. lol ( – Turbo Pokey from Youtube )
Bro I am soooooooo glad you did not mess up this video like some people do WITH MUSIC!!! The whole point is to enjoy the silence of the woods…can't believe how many people miss that… Anyways…thank you, great vid?????? ( – El Sea from Youtube )
8. Hot Tent – Wood Carving – Camp Cooking – Father And Son – Overnighter
https://www.youtube.com/watch?v=LMIxd6vQ1JA  
Brief introduction
Join my son and I as we pull a sled full of gear into the snow covered forest for an overnighter in a new hot tent. We gather firewood and settle in for the evening of cooking a hot soup in a new pressure cooker then do some wood carving in the dark. Our new hot tent worked very well and the woodstove kept us warm all night long. Enjoy our adventure.
Hot tent camping gears:
Tent: POMOLY HEX hot tent
Comments:
It's nice to see a young boy go out camping with his dad. You don't see that much these days. They're usually sitting behind a screen playing video games or watching something. You know, like I'm doing right now. ( – M H from Youtube )
I miss my son at that age! Didn't always have to have a phone in his hand. As always great video! A good father takes his kids camping! ( – Scotts EverythingOutdoors from Youtube )
I'm very jealous, i wished I'd camped more like that with my stepson. We trailer camp. Glamped(wife not outdoorsey). Going to start getting back in to primitive very soon. Only 55 still plenty of life left in me and I'm retired form County DOT so i got the time. ( – Big Dave's Outdoors from Youtube )
another great vid, after my lunch date with my daughter today we came home to watch more of your videos with your kids, she just loved em and wants to go camping now. ( – jeremy s from Youtube )
You May Also Like:
Pomoly LumberJack Fastfold Titanium Tent Wood Stove