Seekoutside Large Titanium Wood Stove VS 3W Tent Stove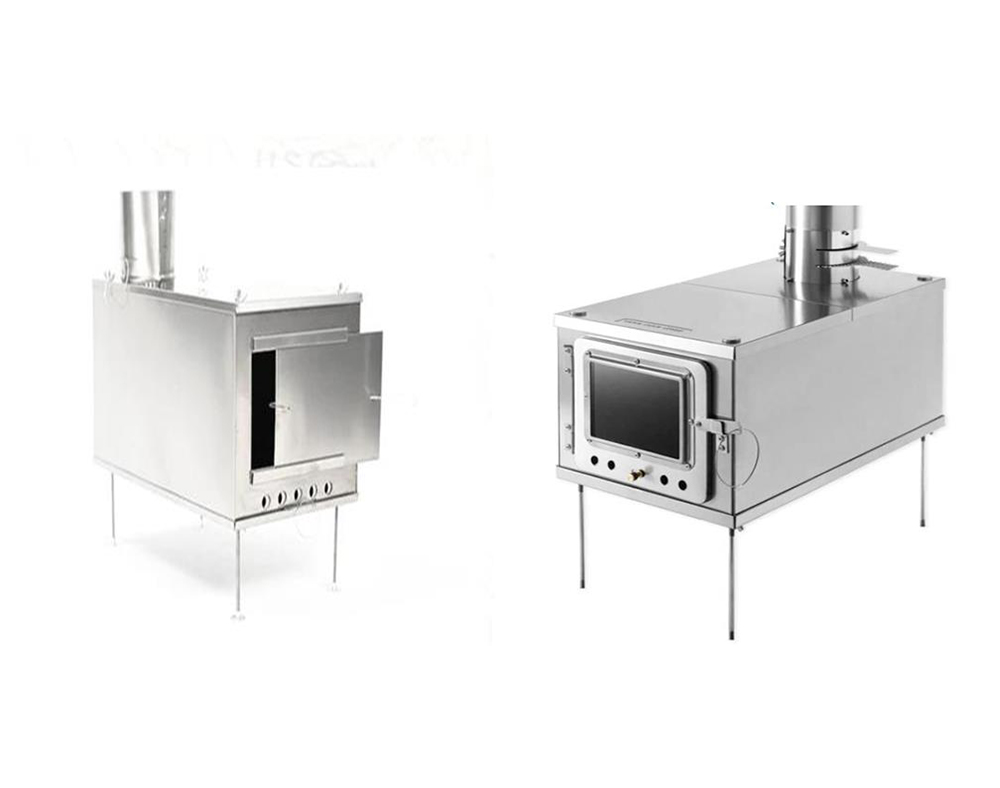 Seek Outside Mission Statement
Seek Outside is passionate about the outdoors, wild places and the experiences they provide. they exist to improve the all-season backcountry experience and to help protect and conserve the wild places we love through bringing together disparate user groups, issue awareness, gear donations, and good old elbow grease.
Seekoutside has developed several types of titanium tent campers, from small to super large, to meet the needs of different sizes of tents.
Large Titanium Wood Stove & Stovepipe
This titanium wood stove has the advantages of strength, durability, ease of use, heat transfer, and lightweight. Titanium is very light, tough, and well suited to high heat loads.
The front door is equipped with an air intake control device, fine design, and powerful damper. You can easily control the air flow in and out of the titanium diesel stove. The flat-top makes cooking easier. Titanium tent campers have good thermal conductivity, so cooking food or boiling water is very fast. You can drink a cup of hot water within 6 to 7 minutes after lighting wood.
Specifications:
Burn Chamber 8.25″ Tall / 8.25″ Wide / 14″ long
Height with legs 12 inches
Weight of Stove including Damper, legs, hardware, and Storage bag, is 35 oz.
Stovepipe weighs 2 oz per foot
Pros:
1. The wood stove made of titanium is light in weight.
2. The front door is equipped with an air-conditioning window, which can adjust the burning rate of firewood.
3. The combination is simple. Convenient storage.
Cons:
1. Without visible fire-proof glass, it is impossible to observe the burning of firewood after closing the front door.
2. The four straight legs of the stove body are relatively thin, so the firewood stove should be placed in a flat place to prevent instability.
Youtube Video 
comments:
1.Really cool, never been one to go out and camp in the cold, but seeing that stove sure makes it temping… maybe one day …( –Brigham Worsencroft from Youtube )
2.Love the winter survival gear reviews. please keep them coming. I'm trying to build my system right now and could use all the input( –Kahrisma from Youtube )
3.I think an awesome video would be hasty shelters in a bug out situation with limited items to create the shelter! I've seen a few but there not as informative as you are in your videos! Keep up the awesome material man, I always look forward to new videos!( –ben byerly from Youtube )
4.That is very cool, and I was really shocked you managed to get all that gear on your back in that small of a pack. Neat!( –Iridium242 from Youtube )
3W Tent Stove
The 3W tent stove tent firewood stove is made of titanium, so it's very lightweight and can be folded down completely to fit into the storage bag. It is suitable for use in tents that can accommodate two to six people, as well as in conical tents and shelters. The titanium furnace kit includes a packaged titanium stop, rolling pipe, spark arrestor grade, folding damper, and a storage zip pouch. Great for backpacking in cold weather!
Specifications:
Kit May Include: Wood Stove, Pipe, Damper card, Spark Arrestor card, and Storage Pouch
Material: Korean Grade 1 Titanium (body) rated to 1382F, Stainless Steel (door parts and chimney), and German Tempered Heat Resistant Glass
Fire Box Size: 13.5″ (length) x 7.8″ (width) x 6.6″ (body height) = 695 in³ (cubic inch)
Stove Body Weight: 2.18 lbs (34.8 ounces)
Total Kit Weight: 4.01 lbs (64.1 ounces)
Similar: Huge XL Wood Stove base camp version
Stove and Pipe Total: 7.56′ (height) [10.8′ with longer pipe]
Door Opening: 5″ (height) x 5.5″ (width)
Wood Pieces: 12″ (length)
Only Stove Pipe: 6.56′ (length) x 2.9″ diameter (width) – [9.8′ pipe available]
Not Included: Snow and Sand Leg Base or our 35a Fire Pit Adapter
Pros:
1. Simple combination and convenient storage.
2. It's light, with a 4.01 pound (64.1 ounces) body.
3. With one side of the fireproof glass, you can observe the burning of firewood.
4. With an air conditioning window.
Cons:
1. In the ultra-light titanium furnace, the titanium plate is thin and may deform during use.
Youtube Video 
comments:
1.Nice stove, can't wait to watch you use it!( –Rod Bennett aka kampzite from Youtube )
2.I really like it. It seems to go together very easily and I like the dovetail system for the end panels. Overall it's a nice design. Thanks for showing us the details!( –Dave's Real Survival from Youtube )
3.nice honest review. I just got mine and first thing I noticed the door handle is different. Can you let us know if you cut the stove pipe back. I set mine up and it was awkwardly sticking kind of high, and didn't seem secure on the stove.( –Carlos Davila from Youtube )
4.This awesome we are watching from African( –Thierry Munse Solo Guitar from Youtube )
Summary
In terms of price, 3W tent wood stock is more expensive than seekoutside large titanium wood.
In terms of appearance, 3W tent wood stock has one more visual glass window than seekoutside large titanium wood. Campers can choose a firewood stove according to their actual needs.