Winnerwell Fastfold Stove Pros And Cons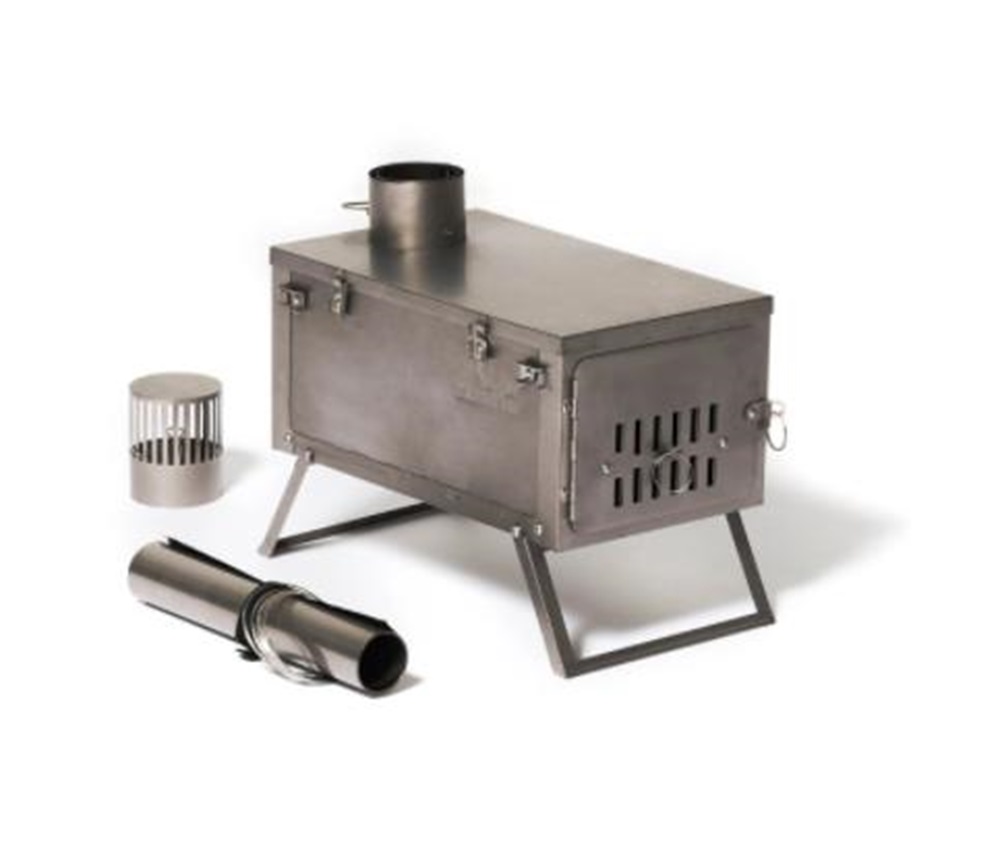 If you are interested in camping, you should have a certain understanding of tent wood stoves. Before implementing a camping plan, you should fully study the quality and practicality of different brands of tent wood stoves, so as to choose what you want. Because a practical wood stove is very important to the meaning of camping. It is not only about the mood of camping but also affects safety. Therefore, before choosing to buy a tent camping stove, we should fully understand the pros and cons of a tent camping stove.
Let's introduce the Fastfold Titanium Stove about Winnerwell.
Fastfold Titanium Stove
product details
Precision-crafted in titanium for superior heat transfer efficiency and ultralight weight
Includes 1 Fastfold Stove body, 1 rolled stove pipe, 1 spark arrestor, and 8 pipe rings, 1 carry bag
Weight: 4 pounds (Stove + Chimney Pipe)
Packed dimensions: 15" x 9" x 2" (stove body) 12" x 1" x 1" (rolled pipe)
Assembled dimensions: 15" x 9" x 7" (stove body)
Flue Dimensions: 3" diameter, 108" length
Firebox Capacity: Approx. 900 cubic inches
Fuel type: Dry seasoned wood
The Fastfold Titanium Stove body weighs only 4 pounds and is an ultra-light portable titanium camping stove. The integrated airflow damper at the bottom of the door and flue allows you to control the burning rate. If you remove the top cover of the stove body, it can be used as a barbecue grill. With a barbecue net on it, you can enjoy a delicious barbecue even outdoors.
The accessories included are rolled stove pipe and spark arrestor. The chimney pipe is made of a very thin single layer of titanium. Therefore, when you roll the chimney for the first time, you must roll it flat. If you make a mistake, it is easy to wrinkle the stove pipe and damage the stove pipe. If you are a novice, you can refer to the instructional video on youtube, which will help you. Titanium has a good metal memory function. After the first combustion, the fire will heat the shape of the stove pipe. If you use it later, you can easily roll it into shape. The spark arrestor is an accessory covering the top of the stove pipe to prevent sparks from flying out and falling on the tent to burn the tent. It should be noted that when using camping wood stoves in tents, you must pay attention to safety and ventilation to prevent carbon monoxide poisoning.
Pros:
1. It is made of titanium, so it is super light, weighing only 4 pounds. The titanium stove is a foldable type, which is easy to store and comes with a storage bag.
2. The top cover can be removed and it can be used as a barbecue.
Cons:
1.Because the weight is super light, the titanium plate of the stove body is thin, and it may be deformed after use.
2. For large tent camping, this titanium camping stove may be a bit small.
Fastfold Titanium Stove uses a fully foldable design, so it can be easily placed in a backpack. This is of great help for backpackers because backpackers and camping enthusiasts, all want to pack as many things as possible in the limited space of their backpacks. And because titanium is lighter than stainless steel or iron, Fastfold Titanium Stove weighs only 4 pounds, which is very suitable for backpackers and biking campers.
YouTube video
Comments:
1.This has to be one of the most peaceful videos on YouTube. So much said with no words. Thank you so much sir for sharing this relaxing moment with us. I don't doubt atleast 5 people went and bought the Winnerwell Titanium Fastfold after watching this. Lol. Way cool man. Be nice to see more like this. Bless you.( –Lukus Carter from Youtube )
2.I've watch a few of your videos tonight. Keep doing what you are doing – they are great!( –172Break from Youtube )
3.Hey man ,great video ,may I ask what tarp are you using ,looks very handy to have( –Rokalott from Youtube )
4.Great demo of the Fastfold, thank you. One question, wouldn't it be better to slide the chimney over the stove port on the stove, rather than inside of it? Then the band would hold the chimney tight to the port, sealing it all up better. Just a thought I had that maybe you can use.( –Scott Hainstock from Youtube )
Thanks again for the demo! Awesome setup! Cheers!