Is TIGER ROAR Tent Stove From Onetigris Worth Buying?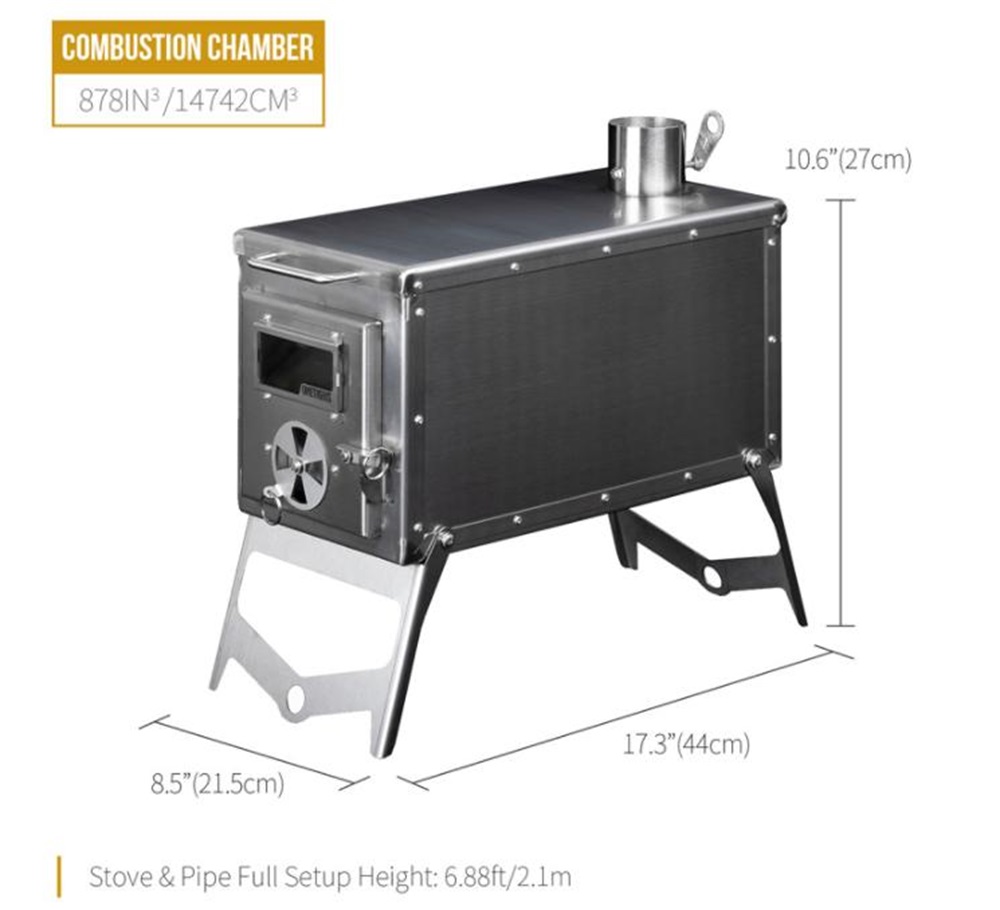 Outdoor camping activities are becoming more and more popular, and tent camping stoves have become one of the essential camping equipment for many camping enthusiasts. What kind of tent camping stove meets public expectations? Durable, ultra-light, titanium tent stove, stainless steel tent stove, iron tent stove, there are too many types for everyone to choose, so what kind of tent camping stove is the most worth buying?
How about Onetigris' tent camping stove? We have collected information about TIGER ROAR Tent Stove, and hope it will be helpful to everyone's choice.
TIGER ROAR Tent Stove
Specifications
Material: Body #304 Stainless Steel, Pipe #201 Stainless Steel
Dimensions: 8.5*17.3*10.6"/21.5cm(L)*44cm(W)*27cm(H)
With Chimney Pipe Height: 6.8ft/2.1m
Weight: 21.2lb/9.6kg
Firebox Size: 878in3/14742cm3
Fuel Type: Dry, seasoned wood only (not intended for coal burning)
Package Includes
OneTigris TIGER ROAR Tent Stove body *1
Stove Pipe *7
45 Degree Elbow Pipe *2
90 Degree Elbow Pipe *2
Leather Gloves *1 Pair
Replacement Glass *1 Piece   Ash scraper*1
TIGER ROAR Tent Stove is a tent camping stove made of #304 stainless steel. It is an ideal equipment for winter camping trips and outdoor cooking. Because it is made of stainless steel, this wood stove is heavier than titanium tent camping stoves, suitable for car camping enthusiasts. The accessories of this tent camping stove include a stovepipe, elbow pipes, a pair of high-quality leather gloves, and a piece of replaceable glass. All accessories can be stored on the stove.
Advantage:
The stove body is made of 304 stainless steel, which is not easy to deform.
The stove tube is a multi-section splicing stove pipe made of 201 stainless steel, which is easy to use and not easy to damage.
The air-conditioning window controls the burning rate of wood.
Disadvantages:
Made of stainless steel, the weight is 21.2lb/9.6kg, the stove body is too heavy, only suitable for car camping enthusiasts.
The price is a bit high.
Youtube video
**FIRST LOOK** OneTigris Tiger Roar hot tent stove!
comments:
1、I love the OneTigris products! I have several. I've been eyeballing this stove, but I'm not quite ready to get one. Great video!( –Mathew Shannon from Youtube )
2、I got this stove a few days ago but I'm going to wait til it's above zero up here before I try it out. Thanks for your video. One question- are you planning on using a spark arrestor? And what kind? I'm not sure what to get yet.( –Outlaw Camper from Youtube )
3、Looks good the website says USA only at the moment though which is a shame( –Mr. Wild Wales from Youtube )
4、The hole in the legs is for a ground stake makes it super stable, these are pretty cool heavy duty stoves like winnerwell sure holds heat like nobody's business!!(=✌?( –Canadian Craftsman from Youtube )
To sum up:
From the reviews, some camping enthusiasts gave this camping wood stove a high evaluation. TIGER ROAR Tent Stove has achieved the functions and advantages that a tent camping stove should have. It has good thermal conductivity and the stove body is very stable. It is not easy to deform. But the weight is not dominant. The heavier weight is indeed the characteristic of the stainless steel camping stove. Of course, if you are a car camping enthusiast and have a certain purchase budget, you can take this tent camping stove into consideration.