Ultralight Tent Stove – Pomoly T1 Mini Stove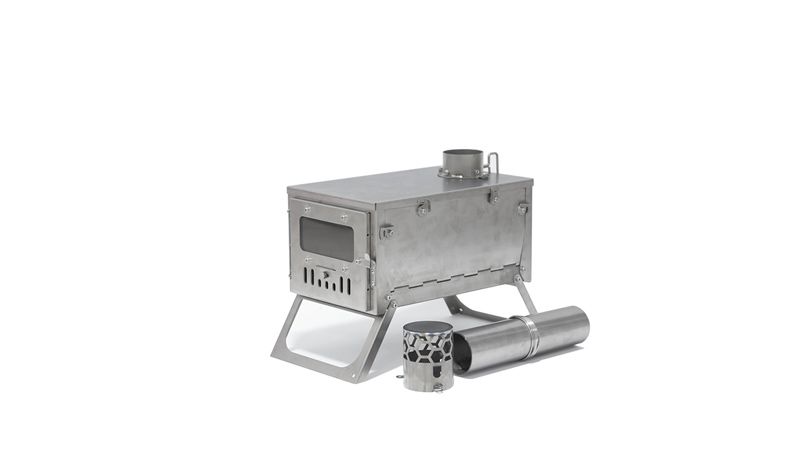 Pomoly T1 mini stove is a titanium tent stove, weighing only 4.6lb.
This tent stove is very light and suitable for single camping, hiking, hunting, and jungle adventures.
This furnace is made of a titanium plate with a thickness of 1mm, which has a strong resistance to deformation.
In addition, titanium has good thermal conductivity and can heat food quickly.
It is very suitable for making camping food when camping in winter or other seasons.
Glass is added to the door of the tent stove. A hot tent with glass windows looks good when it burns at night, and it is easy to observe the burning of wood.
The folding size of the tent stove is 12 x 7.7 x 2 in. The folded tent stove can be easily put into a backpack without taking up too much space. The size of the furnace body of the tent is 12 x 7.7x 6.3, which is very small and not suitable for multiple people.
The melting point of the titanium plate exceeds Over 3000°F / 1678°C, so there is no need to worry about burnout and deformation.
With an integrated damper, you can freely control the airflow in the tent stove to control the burning intensity of the firewood.
The foldable support feet are durable and easy to store.
Sliding the intake valve can control the size of the intake air.
Advantages and disadvantages of the
Ultralight Tent Stove
Advantages
Lightweight and easy to carry
Small size, suitable for solo camping
Foldable, easy to put into the backpack
Made of 1mm titanium plate, strong and durable
Disadvantages
Small size, not suitable for multi-person camping
With glass windows, there is a risk of breaking
Package Contents:
Tent stove specifications
Related Reading: